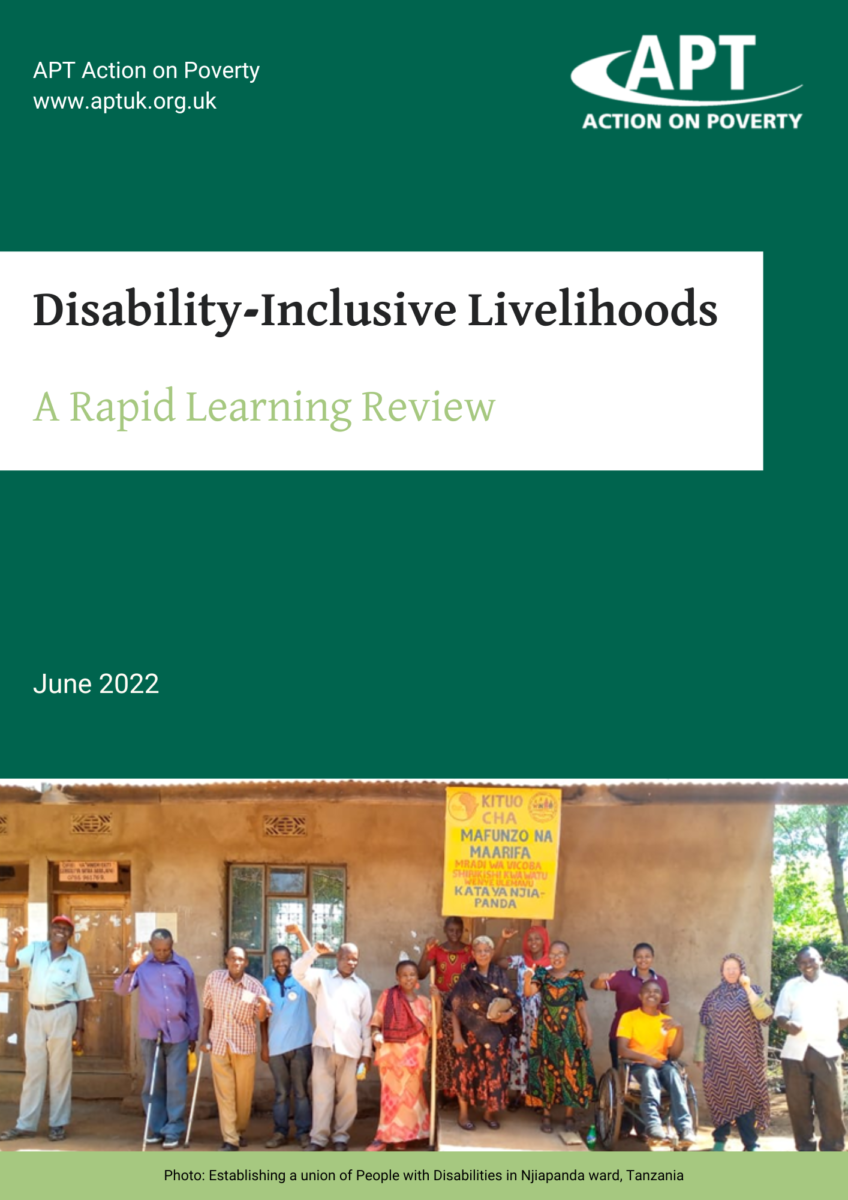 Our Learning Review
Action on Poverty's area of strength and expertise lies within the development of livelihoods, emphasising the inclusion of people with disabilities (PWDs), especially women with disabilities and marginalised groups, working with communities in Uganda, Kenya, Tanzania and Sierra Leone.
In 2021/2022, Action on Poverty has undertaken a review of our work with our local partner organisations in four different countries, supported by an external disability specialist. It outlines the range and extent of disability challenges in relation to livelihoods, the efficacy and cost effectiveness of various activities and interventions — as well as overall recommendations and lessons learned for the sector at large.
This page showcases that review, along with the lessons learned and resources that Action on Poverty and our partners have gathered on our disability inclusion journey.
Key Figures
4
Projects reviewed in: Sierra Leone, Uganda, Kenya, Tanzania
10
Local partners co-delivering these projects
30,000
People reached by all projects
Key Lessons Learned
A rights-based approach underpins the livelihoods work of Action on Poverty and our partners. It addresses the multiple barriers to the inclusion of people with disabilities – including attitudinal, physical and communication barriers. It requires promoting and upholding a disability perspective in all aspects of policy and labour legislation, as well as the effective implementation and enforcement of this legislation at National and county levels.​

It is about taking a systemic, sustainable approach to inclusive livelihoods that supports the rights and dignity of the target communities.


A key theme was the importance of strengthening opportunities for the participation of people with disabilities. Working to build the capacity of OPDs (Organisations of People with Disabilities) and other similar platforms is a critical part of this, giving a greater voice to people with disabilities.

Another key factor for success was the inclusion of people with disabilities in CBO management and leadership, including forming organisational policies to this effect. The visibility of people with disabilities in leadership roles helps to normalise their participation and shift long-held discriminatory attitudes at community level.

An important mechanism for the participation of people with disabilities was promoting Disability Champions or Community Champions, who were seen as critical change agents. They were almost always people with disabilities themselves. They play an active role in advocating for the rights of people with disabilities in their communities, beyond simply being visible role models.​

Women with Disabilities (WWDs) experience compounding challenges and vulnerabilities that make their lived experience qualitatively different from that of male people with disabilities. The Review underlined a variety of ways in which this intersectional disadvantage impacts women with disabilities' experience of livelihoods projects — as well as tangible actions that can work towards overcoming this disadvantage.

These included the early inclusion of women with disabilities in project planning, setting hard targets for women with disabilities' participation, and designing the training delivery in a way that maximises women's involvement (including providing accommodations for women caregivers). Another important factor is engaging men — in a variety of different ways — to help uphold the rights of women with disabilities, to engage with care work that would otherwise fall exclusively to women, and to view women with increased earning potential as a net positive force, instead of a threat.

All projects included an organisational strengthening component that was critical to their success. This included strengthening both partner organisations, as well as the organisational development of other stakeholders, with a particular focus on CBOs and/or OPDs.


A key lesson learned was the need for capacity strengthening of all actors in the Disability Inclusion space, not just OPDs — these include non-PWD focused CBOs looking to mainstream people with disabilities into their projects, community savings and finance groups, local government authorities, and more.

Another key lesson was the need to support OPDs and CBOs though the registration process, which is a vital step in strengthening the viability and sustainability of these organisations, and essential for accessing government services and funding opportunities.

Robust data on disability is essential and needs to be collected 1) by local stakeholders, especially government, to inform local government planning and budget allocations, and 2) by local partner NGOs and their CBO/OPD partners, to better understand the impact of disability inclusion on the lives of beneficiaries.

There is a need to find common agreement, across all stakeholders, on how 'Disability' is defined and understood and assessed in standardised way. Sometimes a lack of clarity on how 'disability' is assessed made interpretation of results more challenging.

Furthermore, there is a strong need to to track disaggregated data on gender, age, and disability — and ideally the level of severity of disability – where feasible. This would allow better capturing of the lived experience of disability, including the extent of disability inclusion, as it intersects with gender, age, social standing, and other characteristics.
Disability Inclusive Resources from Action on Poverty
Below are a selection of resources developed by Action on Poverty (and partners) for the benefit of all organisations interested in mainstreaming people with disabilities into their livelihoods programmes. This includes CBOs, OPDs, local partners of all kinds — as well as INGOs and businesses.
Useful Third-Party Resources
These are a selection of third-party resources on disability mainstreaming and inclusion, particularly in regards to livelihoods and rights.