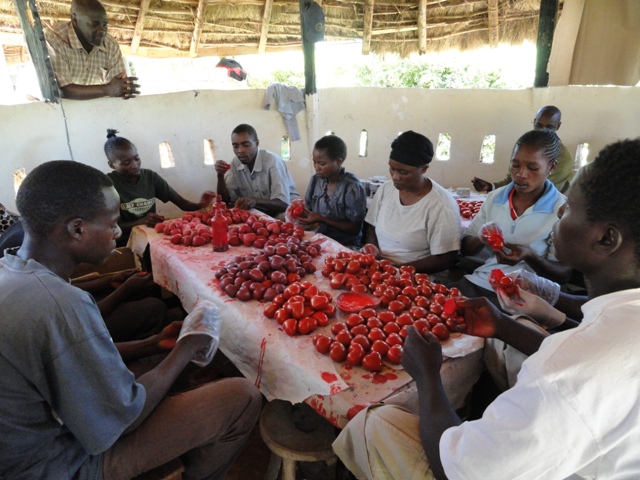 Project information
Start date: 1 July 2010
End date: 31 December 2013
Location: Tabaka, Gucha District, Kenya
Local partner organisation: SITE Enterprise Promotion
The Challenge
Miners, carvers, finishers and others in the soapstone industry work in dire conditions with little reward.  They can be killed or injured by flying rock or by breathing in harmful dust, yet earn a tiny proportion of the industry's potential.
Our project
Through this project we empowered soapstone sector workers to demand and secure safer and more favourable working conditions, and to access a greater and fairer share of the income.  With our partner SITE we helped collectives and co-operatives of 12,000 soapstone workers to become stronger organisations, which are better able to represent the rights, needs and concerns of their members.  We worked to ensure  employers' associations and regulators comply with national and international labour standards and the requirements of importers and alternative trade organisations – helping them to reach the potential of fair-trade markets.
Rose's story
Rose is a quarry owner who began working in the soapstone sector in 1982, where she used to wash and sand products. After the death of her husband, she started selling raw stone and supplying finished products to dealers in Nairobi. For many years, she earned a meagre income from her quarry. "There were even days when we didn't sell any stone at all", says Rose. This project has introduced new methods to excavate stone more efficiently and provided training to the workers in mining and health and safety skills. The workers are more aware of their rights to work in safe conditions, but also of their responsibility to keep the workplace safe and hazard-free.
Rose explained with excitement her experience of this project.  "SITE has helped me to transform the way I do my business and I'm more knowledgeable in the mining business.  My most memorable experience was when SITE sponsored the excavator that helped us remove loose soil from the quarry.  This increased our production capacity so much and we could make sales of up to KES15,000 in one day.  And with the record keeping skills training, I now write down my expenses and sales. I am now able to eat well, feed my dependants, and pay college fees.  I am not hungry or a poor widow anymore – I am enjoying my life."