Project information
Start date: 1 July 2018
End date: 30 June 2022
Location: Nija Panda ward, Moshi District, Kilimanjaro Region, Tanzania
The Challenge
Recent studies indicate that 10% of people in Kilimanjaro Region of Tanzania have a disability, but people with disabilities face particular barriers to developing sustainable livelihoods and their rights are not respected. Women with disabilities face additional challenges – gender-based discrimination against women with disabilities puts them at much higher risk of poverty and violence.
Women living in this area, and women with disabilities in particular, lack access to appropriate training and employment opportunities which prevents them from being able to earn incomes to support themselves and improve their wellbeing.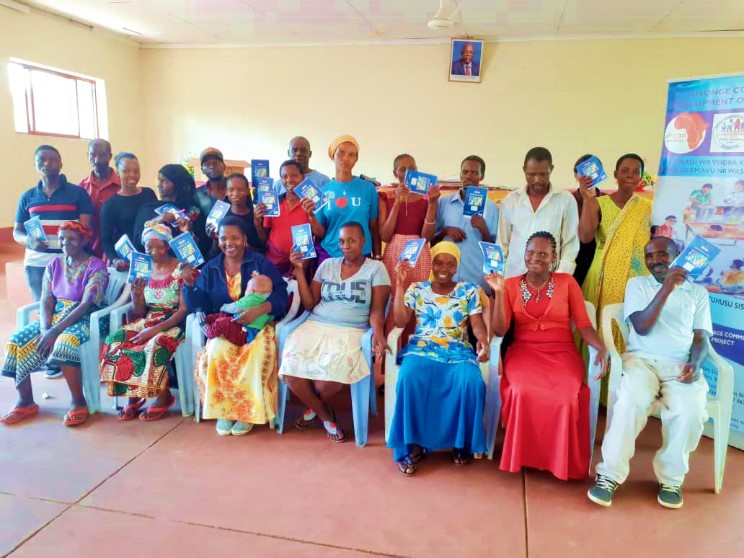 Our project
Working in partnership with Tusonge Community Development Organisation, this project aims to improve access to livelihoods opportunities, well-being and confidence for people living with a disability, their families and other vulnerable adults. The project provides access to affordable loans and saving schemes through village community banking groups (VICOBA), alongside business and financial management training and vocational skills workshops. This enables those living with a disability and other vulnerable adults to borrow small seed capital and start income-generating activities, which in turn results in improved economic and social well-being. In addition to the economic empowerment activities, the project raises understanding and awareness of the rights of people living with a disability.
The project has three main aims:
To reach 540 vulnerable people with economic empowerment activities, at least 10% of which will be people living with a disability;
To deliver training and awareness raising activities to people living with a disability, the wider community and local leaders to increase knowledge of disability rights and empower those living with disabilities to claim them;
To strengthen the capacity of Action on Poverty and Tusonge to design and implement disability inclusive projects.
Evarista's story
Evarista is 17 years old and has a disability which affects the functioning of the left side of her body. Before Evarista joined this project, she was not accepted at her school and discriminated against by teachers and students because of her disability.
Through this project, Tusonge has supported Evarista to attend a local clinic to get care and support for her condition. The training and support they have provided has made her much more confident. She knows her rights and feels much happier and has been able to accept her condition. Her mother Veronica has joined the village banking group as part of the project, and says she is now more confident knowing that she is able to access a loan if she needs one to support Evarista and her medical needs. The group has also given the family a support network and a feeling of acceptance in the community
Evarista's hopes for the future are to keep learning and to continue onto higher education. She wants to become a teacher, and to gain skills and knowledge to be able to support other children like her with disabilities.
Project funder
Funded by the National Lottery Community Fund