Pujehun, in the southern province of Sierra Leone, is one of the poorest and least developed of its 13 administrative districts. It is an area dominated by poverty and poor farming yields, where low levels of productivity hold back economic growth. The Covid-19 outbreak is bringing further challenges to the area, with many people struggling to access enough nutritious food due to movement restrictions and market closures.
Mata is one of many young people living in poor rural villages. Not so long ago, she was struggling to feed herself and her four children. School was a distant fantasy for a family that could barely afford to eat.
In places like Pujehun, opportunities to escape poverty are rare. And like most women in her country, Mata also suffered the scourge of gender inequality, with little opportunity to participate in the decision-making process in her community. She had little hope for a bright future.
Mata is one of the lucky ones. Thanks to our current community empowerment project, she was able to obtain a loan from the local community-based organisation (CBO) to set up her own business, buying goods from the local trade fair in Mano to sell in her community. "Before this project, I had nothing of my own. There were no livelihoods opportunities available to me", says Mata.
The project involves working with local CBOs to improve livelihoods and food security among the most vulnerable. And as part of the support offered by the project, Mata was also given business management training, which taught her to ensure her business is profitable. She has used these resources and knowledge to revolve her funds and buy more products to continue selling.
Mata has now repaid her loan in full and is using the profits to continue the business. This opportunity has given Mata an income and a means with which to feed her family.
In setting up her own business Mata isn't just helping herself and her family to eat, she is building a future for her children. The profits she has made have enabled her to pay for her children to go to school. With the vast majority of the population over five years of age having never been to school, this is a great achievement. Because of the help of projects like this, together with her own hard work, Mata's children will get an education and earn a living when they grow up. "I feel proud of myself and empowered".
Mata's story has a happy ending, but there are many more who need our help. A staggering 41% of the district population lack the means to feed themselves and their families and have no prospects of doing so in the future unless they can access projects like this. With the Covid-19 crisis increasing hunger further, we must support these families to access sustainable sources of food – both to meet their urgent needs now and to build a better future.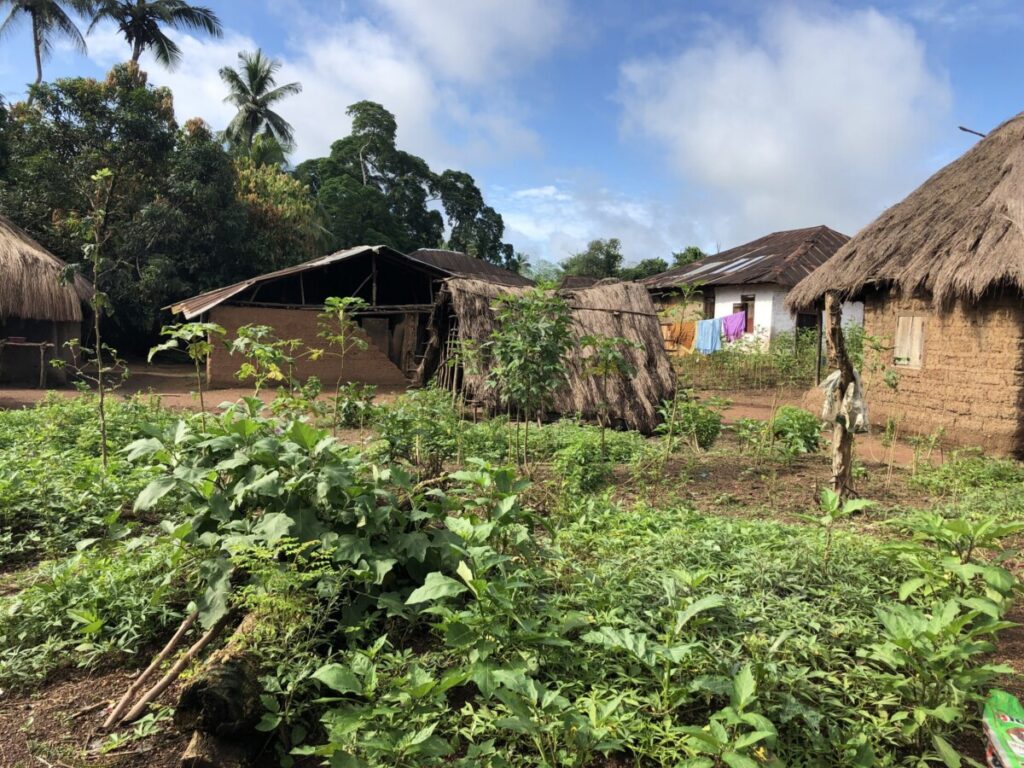 The cycle of poverty
The economic situation in this area of Sierra Leone is dismal. Agriculture is the main livelihood source for the majority of people living in the region but farmers face a multitude of challenges, not least of which are low crop yields; lack of access to seeds, fertiliser and equipment. This isn't a good projection for a successful future. High illiteracy rates, poor access to market information, resource-intensive farming techniques and external issues such as climate change continue to perpetuate the cycle of poverty in Pujehun.
As Covid-19 lockdown measures restrict movements and prevent people from earning an income, there is a severe risk that even more families will go hungry.
Young people in particular face a bleak future indeed. Around 70 percent of youth are unemployed as a result of illiteracy and the lack of formal education or training – they have no opportunity to obtain skills in order to compete for the limited jobs available.
Prejudice
For women like Mata, the challenges described are only part of the problem. Significant gender-based inequality still exists in Pujehun and the traditional belief that women are the property of men still pervades communities. The constant threat of violence is a common experience of many women and girls in Sierra Leone.
For those individuals with disabilities, the obstacles are considerably worse. Not only do they have to deal with the challenges that other young people face as a result of poverty, but they also have the additional challenge of stigma and discrimination which prevents them from developing their own livelihoods, and which in turn creates further obstacles.
The project: Hope and Transformative Change
We want to prompt transformative change to help meet the desperate needs of the communities, where local governance fails. The project will support Community Based Organisations (CBOs) to empower vulnerable community members in some of the most disadvantaged areas of Pujehun District. With the knowledge, skills and confidence that projects like this offer, people will be able to acquire sustainable livelihoods and provide for their families.
Our aim is to work with CBOs in supporting vulnerable and marginalised people – women, youth and people with disabilities – to access employment opportunities and earn sustainable incomes. This support will include revolving loan schemes that helped Mata and will help more people to start up their own businesses. We will also provide farming hand tools and seed loans for agriculture, and will support youth and vulnerable people to undertake vocational training placements with local artisans.
We are working hard to keep the people we work with and our project staff safe while we deliver these activities, so we have made some changes to ensure our programme can continue safely.  For example, our training sessions now take place in smaller groups of no more than 5 people at a time, to make sure we maintain physical distancing. We are also raising awareness of Covid-19, its symptoms and how people can protect themselves, and providing handwashing stations to prevent the spread of the disease within communities.
We want to help change the lives of vulnerable people in Pujehun District by giving them the assistance they need to support themselves, whether this is by providing loans, offering business mentoring or helping to raise awareness of discrimination. We know that these opportunities are essential to support marginalised people to earn a living. And if Mata is an example of what can be achieved when we support communities such as this, then just imagine the extraordinary human potential we can unlock. To date, we have made incredible progress in helping people find lasting ways out of poverty and deprivation, but more people need our help.
Vulnerable people in Pujehun District have few opportunities to earn sustainable incomes and shape their own futures without overcoming substantial hurdles. But, in a country that was devastated by brutal civil conflict and that still carries those wounds, Mata's story is an encouraging one.
At its heart, the project is about giving Mata, and the many thousands like her, the ability to feed her children and send them to school, because education always leads to greater things. Progress always comes back to learning – it is the first step on the journey to creating a country where vulnerable groups can provide for themselves and thrive.
We are passionate about helping the people of Pujehun District, but we cannot do it alone. This is a crisis that together we can change – we still need to raise £17,450 in match funding. Your help will make an extraordinary difference and will be another step towards helping the people of Pujehun to build the future they deserve.